Packing service

Storage

Removals
What address are you moving from?
When is your likely moving date?
What type of property are you moving from ?
What floor are you moving from?
What floor are you moving to?
I'm a returning customer ?
How did you hear about us ?
next
Calculate the volume
Search for an item ->

2 Seater Sofa

3 Seater Sofa

4 Seater Sofa

Corner Sofa

Armchair

Large Display Cabinet

Display Cabinet

Corner Display

Sideboard

Large Bookcase

Small Bookcase

TV Stand

Table

End Table

Foot Stool

Upright Piano

Grand Piano

TV Plazma

Stereo System

CD Rack

Grandfather Clock

Chandelier

Stand/Floor Lamp

Mirror

Rug

Picture

Book/CD/DVD Box

Small Box

Large Box

Coffee Table

China/ Display Cabinet

Dining Table (4 chairs)

Dining Table (8 chairs)

Dining Chairs

Large Sideboard

Small Sideboard

Picture

Mirror

Rug

Small Box

China Box

Large Box

Breakfast Table

Breakfast Chair

High Chair

Bench

Bin

Fridge/Freezer

Undercounter Fridge

Freezer

American Fridge

Cooker

Diswasher

Microwave

Washing Machine

Tumble Dryer

Coffee Machine

Wine Box

Wine Rack Medium

Small Box

Dish Box

Medium Box
Single Bed

Double Bed

Kingsize Bed

Super Kingsize Bed

Ottoman

Futon
Bunk Bed

Single Wardrobe

Double Wardrobe

Triple Wardrobe

Med Chest of Drawers

Large Chest of Drawers

Dressing Table

Tall Boy

Dresser

Bedside Table

Bookcase

Rocking Chair

Footstool

TV Plazma

Bedside Lamp

Mirror

Rug

Picture

Bathroom Cabinet

Laundry Basket

Small Box

Medium Box

Large Box

Wardrobe Box

Cot/ Childs Bed

Chest

Toy Chest

Baby Changing Table

Small Wardrobe

Playpen

Child's Table

Child's Chair

Doll's House

Rug

Desk

Pedestal

Office Chair

Filing Cabinet 3 Drawers

Small Bookcase

Medium Bookcase
Metal Steel Cabinet

PC

Printer/Photocopier

Shredder

Small Box

Archive Box

BBQ

Garden Hose

Lawn Mower

Picnic Bench

Garden Table 4-6 Seats

Garden Chair

Garden Parasol

Ladder

Wheelbarrow

Trampoline

Outdoor Child's Slide

Outdoor Child's Swing

Outdoor Child's House

Garden Trimmer

Bird Bath

Garden Statue

Garden Tools

Medium Box

Bicycle

Coat Stand

Folding Chair

Step Ladder

Ironing Board

Vacuum

Shoe Rack

Guitar

Electric Piano

Kids Bicycle

Pushchair/ Buggy

Sewing Machine
Trademill

Exercise Bike

Sports Equipment

Rowing Machine

Band Saw

Work Bench

Tool Box

Plastic 3 Drawer Unit

Plastic Container

Suitcase

Bag

Plants/ Pots

Furniture Disassembly
Home - Services - Furniture Disassembly
Furniture Disassembly and Assembly Services
Choosing family size fridge or a two-story bed back in the day was a really good investment, probably you had a professional assistant that helped you to take that strategically move to solve in a move the financial and space issue, but when it comes to moving you wonder how you are going to get them out of the room without breaking them or any walls and door frame or how you'll get them onto the removals van. Well don't, for every puzzle there are professional furniture disassembly and assembly experts that can make your move a holiday to glaze at.
WE HAVE THE TOOLS AND WE ARE NOT AFRAID TO USE THEM!
With WeCare Removals, get yourself a nice spot and enjoy a tea and the easiness of the dismantling and reassembling process. We offer a great furniture disassembly and reassembly service throughout UK.
We have all tools necessary for removing doors from hinges , furniture disassembly - from disassembling business massive cabinets to sophisticated beds and heavy vintage cupboards.
Before moving anything, WeCare will reassure you with meticulous eye-assistance on categorizing the items you need to dismantle, pack and move.
If you need any help in packing some of your fragile items then our experts will tell you instantly what packages are most suitable for any type of goods, from antique to delicate china so that you know what special packing service you need and also to settle it for the packing team that can be provided by us as well.
Either you choose the Furniture disassembly service, packing service or just the delivering your goods, be sure all your goods are safe with us, at each step we provide insurance.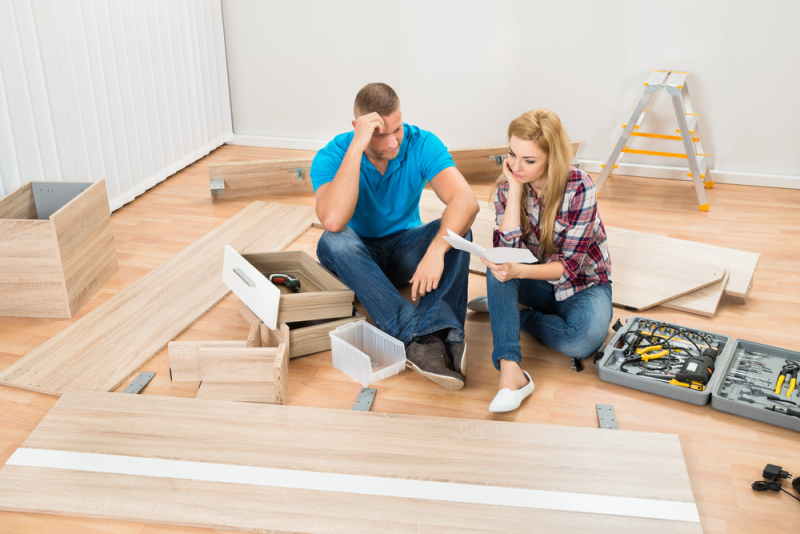 HOW WECARE REMOVALS CAN HELP YOU ?
We're very proud of our professional furniture disassembly & reassembly experts at WeCare Removals, so here are few benefits you'll get by booking us today:
Professional team

Spare fittings, equipment and right tools the job

Experienced furniture dismantling and reassembling experts

We'll dismantle your furniture carefully, keeping it safe & strong

Great customer support – use 0800 368 7707 any time, it's free.

Flexibility – we work seven days a week and can provide evening bookings at request

Competitive pricing system

Discounts available on combining more services.

£50,000 insurance for any damage caused by us
EXPERT FURNITURE DISASSEMBLY & REASSEMBLY
In case you want to assemble an IKEA furniture or you're searching for sofa dismantlers, you can call us and we will assist you, as our furniture dismantling service has worked out with different type of furniture from different furniture providers.
If the process of assembling a step-by-step furniture item is not such a difficult and it wouldn't take much effort and time, like Ikea furniture disassembly which we do it regardless what service you have it brought to you, then items like sofas, flat pack furniture or one piece decorations need a more meticulous work. At WeCare Removals we are ready and equipped to prevent any corner damaging or surface scratching, the sofa dismantlers will take in consideration all the angles and doors no matter you want to bring it inside or to take it outside so you have not just the item in one piece but also the intact house doors, windows and walls.
WeCare Removals can offer discounts when you book various different services at the same time. Please call our office on 0800 368 7707 for more information or click the BOOK NOW button bellow.
Whenever you decide to pack, store or just to move to a new start, WeCare Removals will lead the way.
Happy Customers Whom We've Helped to Move
The guys phoned ahead of arrival to let me know when they would be there. They worked incredibly hard for 6 hours with no real breaks and were very careful with our furniture.
Arrived on time, polite, efficient and hardworking men. Highly recommended.
I was extremely pleased I picked this removal company. Louis and his colleague were very helpful and polite and took real good care of our items. It was a very hot day and they worked flat out without any breaks. I would definitely recommend them.
Two professional, capable and helpful men. I was very happy with the quality of their work
What fantastic guys. You'd be crazy not to pick them. They were such hard workers. Moved everything swiftly but carefully! They were lovely to me, putting ever item where I had asked and incredibly polite! Most of all I felt like they were really taking care of my belongings. One word for you, fantastic!
Guys were FANTASTIC. Charming, efficient, careful, no one thing broken, perfect! THANK YOU! FIVE STARS all the way.
Very pleasant and respectful removal guys who made the move less stressful for me. I would certainly use them again based on this experience. They called one hour before they arrived which was also helpful.
Very good communication throughout. Polite, speedy, careful, considerate. 100 percent satisfied. Would definitely use again.
Excellent house removal service from 1st quote, through to final delivery. Quick, clear, concise, communicated when they said they would & on time. I would use again and recommend to friends.
S Hardy.
Fantastic service. Drivers very polite and nothing was too much trouble. Very professional job. 5***** and would recommend.