Packing service

Storage

Removals
What address are you moving from?
When is your likely moving date?
What type of property are you moving from ?
What floor are you moving from?
What floor are you moving to?
I'm a returning customer ?
How did you hear about us ?
next
Calculate the volume
Search for an item ->

2 Seater Sofa

3 Seater Sofa

4 Seater Sofa

Corner Sofa

Armchair

Large Display Cabinet

Display Cabinet

Corner Display

Sideboard

Large Bookcase

Small Bookcase

TV Stand

Table

End Table

Foot Stool

Upright Piano

Grand Piano

TV Plazma

Stereo System

CD Rack

Grandfather Clock

Chandelier

Stand/Floor Lamp

Mirror

Rug

Picture

Book/CD/DVD Box

Small Box

Large Box

Coffee Table

China/ Display Cabinet

Dining Table (4 chairs)

Dining Table (8 chairs)

Dining Chairs

Large Sideboard

Small Sideboard

Picture

Mirror

Rug

Small Box

China Box

Large Box

Breakfast Table

Breakfast Chair

High Chair

Bench

Bin

Fridge/Freezer

Undercounter Fridge

Freezer

American Fridge

Cooker

Diswasher

Microwave

Washing Machine

Tumble Dryer

Coffee Machine

Wine Box

Wine Rack Medium

Small Box

Dish Box

Medium Box
Single Bed

Double Bed

Kingsize Bed

Super Kingsize Bed

Ottoman

Futon
Bunk Bed

Single Wardrobe

Double Wardrobe

Triple Wardrobe

Med Chest of Drawers

Large Chest of Drawers

Dressing Table

Tall Boy

Dresser

Bedside Table

Bookcase

Rocking Chair

Footstool

TV Plazma

Bedside Lamp

Mirror

Rug

Picture

Bathroom Cabinet

Laundry Basket

Small Box

Medium Box

Large Box

Wardrobe Box

Cot/ Childs Bed

Chest

Toy Chest

Baby Changing Table

Small Wardrobe

Playpen

Child's Table

Child's Chair

Doll's House

Rug

Desk

Pedestal

Office Chair

Filing Cabinet 3 Drawers

Small Bookcase

Medium Bookcase
Metal Steel Cabinet

PC

Printer/Photocopier

Shredder

Small Box

Archive Box

BBQ

Garden Hose

Lawn Mower

Picnic Bench

Garden Table 4-6 Seats

Garden Chair

Garden Parasol

Ladder

Wheelbarrow

Trampoline

Outdoor Child's Slide

Outdoor Child's Swing

Outdoor Child's House

Garden Trimmer

Bird Bath

Garden Statue

Garden Tools

Medium Box

Bicycle

Coat Stand

Folding Chair

Step Ladder

Ironing Board

Vacuum

Shoe Rack

Guitar

Electric Piano

Kids Bicycle

Pushchair/ Buggy

Sewing Machine
Trademill

Exercise Bike

Sports Equipment

Rowing Machine

Band Saw

Work Bench

Tool Box

Plastic 3 Drawer Unit

Plastic Container

Suitcase

Bag

Plants/ Pots

The Moving Day Survival Kit
Home - HELP & ADVICE - Blog - The Moving Day Survival Kit
Prepare a survival kit for your house moving day.
As you dive into the craziness of the moving process, you can easily stuck or get lost in the packages or counting down what is left and in these kind of situations is necessary to have your autopilot work for you so make sure you prepare beforehand a moving day survival kit with the most vital tools you will need while the removal takes part. You never know when you need your ID, a contract or a headache pill; the ultimate survival kit can save the time and reduce panic to minimum as you have the most important things close to you.
GATHERING THE SURVIVAL KIT
First of all is necessary to realize that you should keep the survival first-need kit apart from the rest moving packages and boxes what are going to be loaded and transported by the removal team, as depending on the distance you may have to store for some time the boxes.
Make sure the first-night kit is tagged so you can identify it from the rest and keep it close to you so you don't have to unpack all the boxes in the need of finding your sleeping bag and sometimes you won't have the appropriate space to check all of them in order to get your changing clothes.; better to transport it yourself or to put it the last that goes in the truck so you can have it the first out.

As moving implies unpacking when at the new place, arranging can take a while so the bad probably won't be the first thing you think about, that is way you have to make sure that your family has the right amount and appropriate sleeping bags and nightclothes for the first night.
Besides the overnight bag consider the changing clothes for the next day. If there is just you alone moving, keep all these stuff in one bag for an effective and comfortable division of your vitals, if there are more family members you can coordinate with each of them what every one of them should keep in mind and then to settle to have the bathroom supplies in one box for making it more simple to overpass it at the new house.
These are just some basic tricks we advice each customer in advance, for any extra advice and useful hacks check out our Blog or read our House Moving Checklist.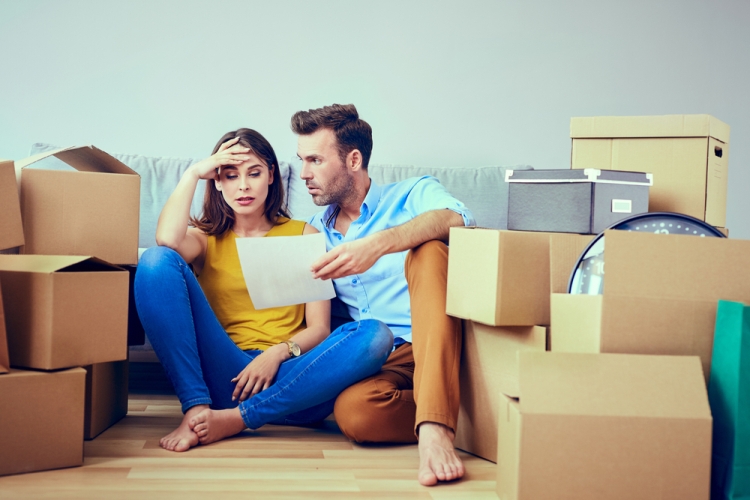 THIS IS WHAT WE RECOMMEND TO KEEP IN YOUR MOVING DAY SURVIVAL KIT :
Kitchen room:
Water (consider the individual bottling for each for a more comfortable carrying).

Kettle ( consider the volume if big family)

Instant tea bags/ coffee/ milk powder and sugar.

Snacks ( consider the number the kids and amount of the settling-in days)

Basic utensils- a set of fork/knife with cup and plate for each member of the family(consider the distance and settling-in period and if long- choose the plastic cutlery)

Provisions (consider the number of the days until a working kitchen)

Cooking tools and recipients ( consider the days until a working kitchen)

Wipes, garbage bags and paper tower.
Bedroom:
Bed sheets and extra blanket ( consider the amount of sleeping bags)

A set of changing clothes for each

Closet tools( phone chargers, alarm clocks, glasses, if small children- a lamp)
Bathroom:
Personal Hygene tools ( toothbrush, toothpaste, shower supplies, towel)

Cosmetics ( toiletries, cleaning and disinfection supplies)

Soap and toiler paper.

Medicine and first aid supplies ( painkillers, plasters, antiseptic, anti allergic products).
From the toolbox:
Elementary tools( knife, scissors, lantern and batteries)

Secondary tools ( duct tape, ropes, screwdriver, hammer and nails, tape-measure, wrench)
Accessories:
Radio device with extra batteries;

Lamps with light bulbs;

Bucket with floor mop;

Sticky Paper notes with pens for;

Pet accessories ( bedding/ feeding/ hygiene materials)

Aroma therapy tools for a comfy and relaxed atmosphere
Special children must-have list:
Soft toys of puzzle games for entertaining time;

Reading or coloring books;

Coloring pens/crayons and paper;

Lamps and family pictures ( for the emotional comfort);

Cartoon DVD's or playing cassettes;

Little babies changing supplies;

Moving in surprise( for a positive association; e.g. a housekeeper toy )
Along the strategically arranged moving-in items keep in mind that it is about people so have fun and enjoy the process and if a new tradition ritual will make the move more festive and cheerful than don't hesitate to invent one.
Keeping the family united sometimes may be more difficult then arranging the removal, so take some glasses, a bottle of champagne for the adults and a soda for the kids and celebrate your new start.
Are you moving house, office or just need a storage solution ? Don't hesitate to contact WeCare Removals in order to receive a competitive quote.